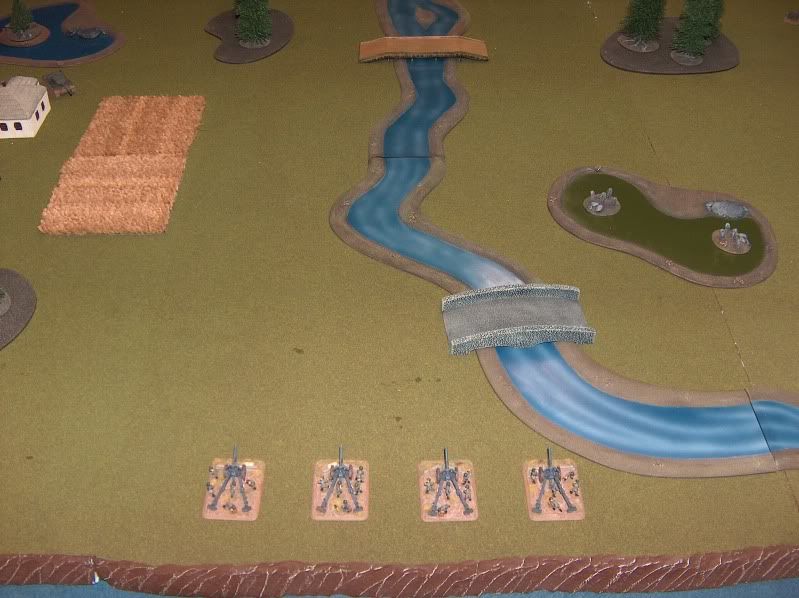 Teams MUST rotate towards a team in the enemy platoon they are shooting at. Artillery guns, since they don't shoot at a platoon, rotate towards their ranged in marker. This can dramatically change their field of fire and gun shield facing for future turns.
Infantry teams don't matter much because they have a 360 degree field of fire. I guess technically they should also rotate, but no one wants to stand there while you rotate a 100 Strelkovy stands.
I'll go through a few situations here.
First gun teams must turn towards a team in front of their 180 degree arc. This could be as simple as turning towards the nearest team.
Where it gets complicated is if only some of the teams in the enemy platoon are in front of your 180 degree arc. You need to remember this BEFORE you rotate them. Because even though you can shoot at that platoon, you can only hit teams that were ORIGINALLY in front of your 180 degree arc. This is something I will over in the next Nazi Rules Corner. One thing a lot of people do is roll all their hits, but their opponent doesn't assign any. They then roll all of their saves and then apply those to their units...this is a NO NO.
So you can see in the picture below that only one half-track is in front of the 180 degree arc for the 45mm guns. That means even though when the guns turn, the rest of the half-tracks are in front of the 180 degree arc, they can still ONLY apply hits to that 1 half-track.
Only the 1 half track would take all hits from both guns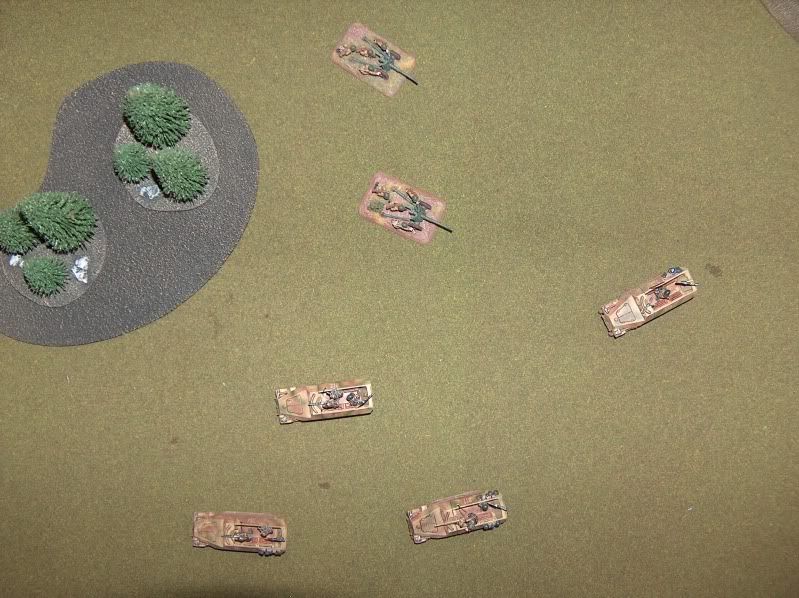 Even though all are in front after rotation
Assault guns are the same with the 180 arc, but tanks with turrets are a little different. Turreted tanks can either choose to turn their hull at any team in front of their 180, or their turret toward any team. However, in the same situation above they could shoot at teams behind them. Except for their Hull MG only has a 180 degree arc.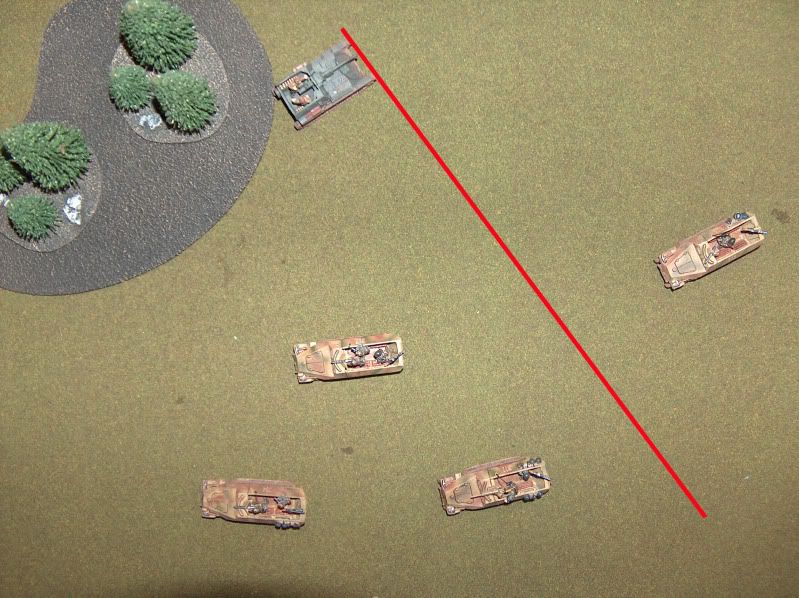 Hull mounted guns the same as gun teams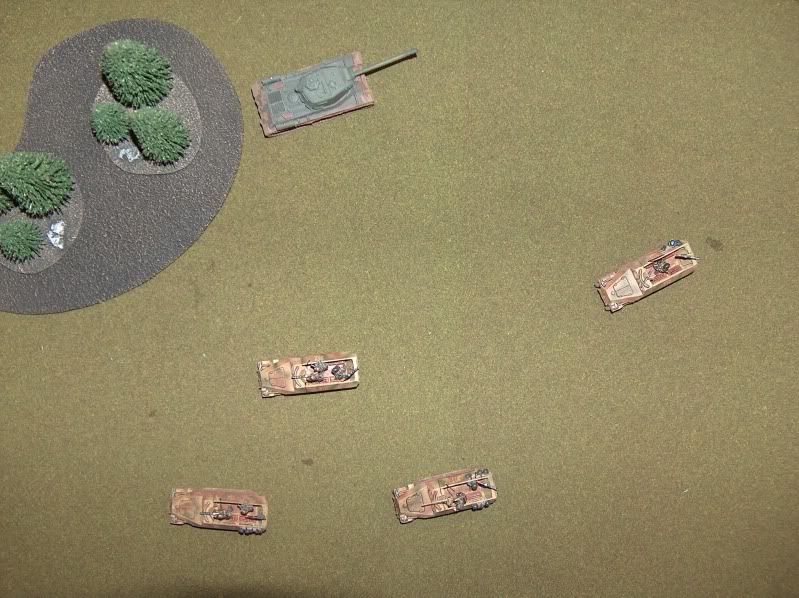 Tank teams are different
Turn hull towards only team in front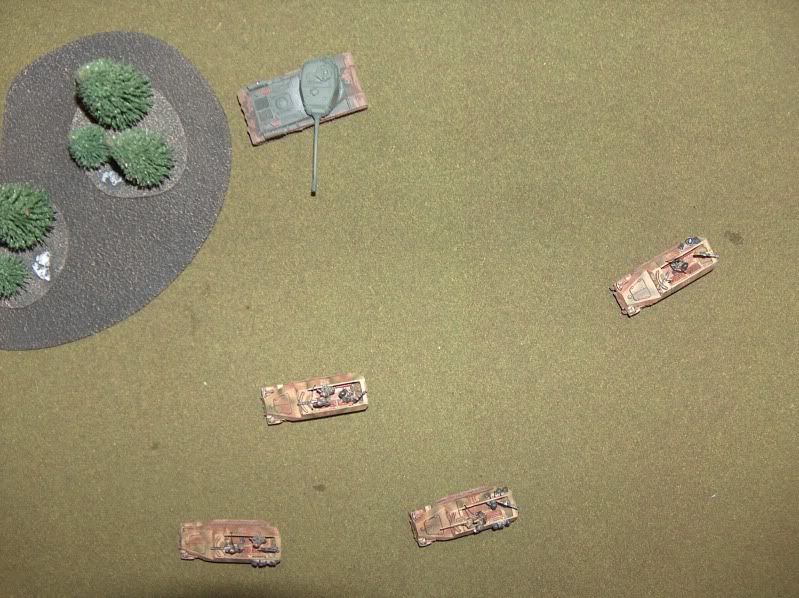 Or, turn turret towards any team
The next issue I have is squishing teams together. I've probably seen this more then anything else. Teams rotate on their Center, and if they can't, they can't shoot. The bases aren't square, so if you put all your teams side by side, they will not be able to rotate and shoot.
Even teams that are placed right beside a building. They won't be able to rotate and shoot at all. The building is in the way. It is NOT ok to rotate them so they are sticking out a bit. If you rotate them properly, on their center, they would end up half way into the building. That means they can't shoot. You can see in this picture that if teams rotate on their center then end up on top of each other, or partially into the building. What I've seen is the 2nd picture where people just shift teams out a tiny bit. You can't do that. That would be movement, and immobile guns can't do that even in the movement step.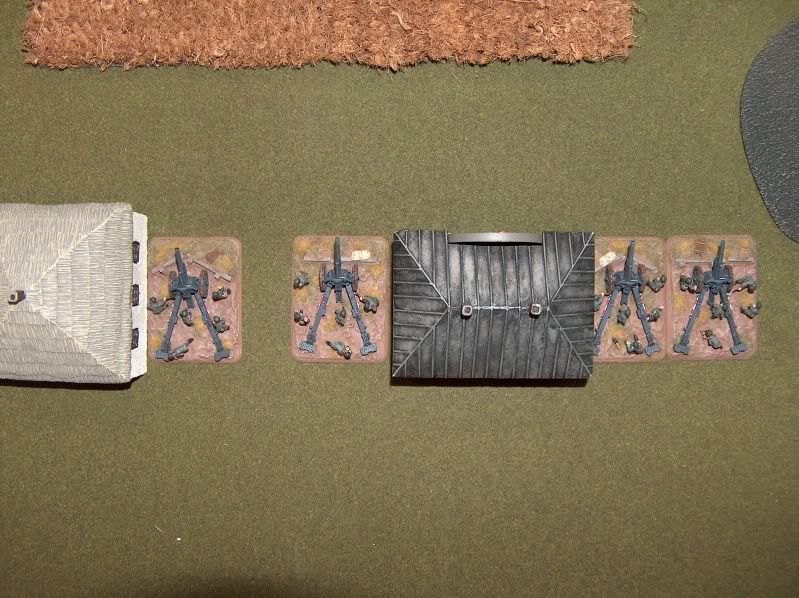 These guns cannot rotate and shoot in anyway.
Rotating just to fit...is a no no.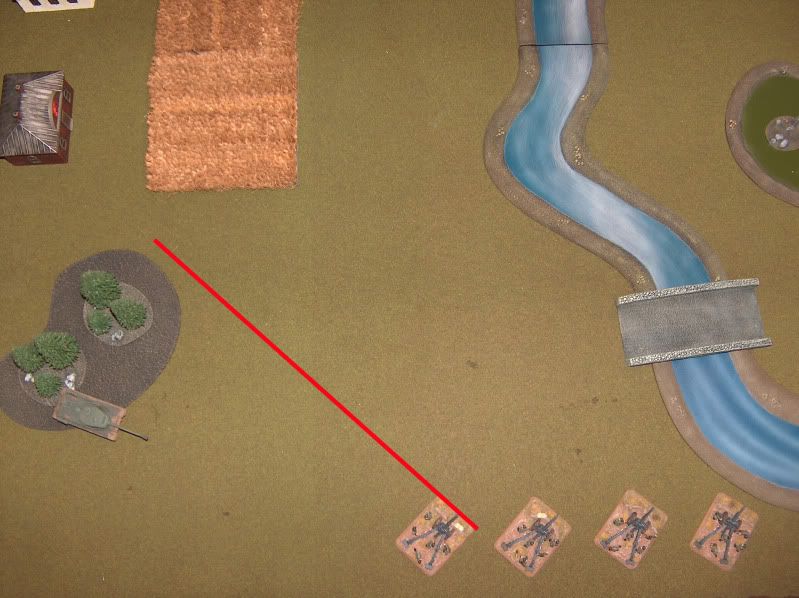 Rotating properly can affect what you can shoot at from turn to turn. In the pic's below you can see that the artillery can range in on one side of the board one turn, but because they HAD to rotate, the now cannot rotate to get the IS-2 the next turn. They would have to move first, and then shoot the next turn.
So, this should show you how important rotating teams is. All to often I've played games where guys stick all their guns in the back, squished together, never rotate, and then just shoot at everything on the board. As I mentioned before, rotating is a big part of the game and how it all plays out.
Next i will do actually how to apply hits. Its really hard to do this with pictures and text, I should almost do video's.